Hardwood floors have continued to be the most popular choice for homes and condominiums. Here are the abc's of choosing, installing and maintaining hardwood floors in your home, house and condominium.
Since houses have been built, wood has been a popular flooring choice. And, despite the influx of man-made materials such as carpet and tile, hardwood floors shows no sign of letting up in popularity.
(article continues below useful links)
Flooring choices
Versus carpeting and vinyl tile, hardwood floors can be more durable and can also look cleaner. Versus ceramic floors, hardwood floors have the perception of being a warm floor.
Here are some other articles on the ABC's of installing hardwood floors and that may help you make better decisions with your hardwood flooring choices: Expenses and choices for New Hardwood Floors and Kitchen Renovation Trends and Hardwood Floors
And while both ceramic tile and wood last a lifetime, tile cannot be altered as a hardwood floor can by changing colors or being refinished.
Factors to consider before installing hardwood floors.
Before purchasing a hardwood floor, however, consumers need to be cognizant of several factors: Types of woods, grades, installation and maintenance. With that in mind, what follows is a primer to hardwood floors. Hardwood floors are really just that – hard wood. Most hardwood flooring is made from oak – either red oak or white oak. Maple is the next most popular choice and that's followed by ash, beech, birch, hickory, pecan, cherry and walnut.
Pine, technically a soft wood, is also a fairly popular choice, about as popular as ash. However, most people are interested in old pine wood, not new pine.
Buyers should also be cognizant that there are several grades of hardwood flooring, and that these grades differ between types of wood.
Oak and hardwood are graded strictly on appearance and the characteristics (small streaks, pin worm holes, sap, knots) found in the wood. That means there is no difference in the strength of the wood from one grade to another.
The more uniform and characteristic-free a piece of wood is, the higher the grade.
Maple, pecan, birch and beech, meanwhile, have three grades simply categorized as 1st grade, 2nd grade and 3rd grade.
Hardwood flooring price considerations
Price-wise, there's a good range between grades. Clear oak, for example, can be more than twice the price of No. 2 common oak.
The grade of wood a homeowner chooses usually depends on the type of house where they plan to install the hardwood floor.
Installation considerations
Installation of hardwood floors is best left to the professionals. There are, however, certain things homeowners should know.
For example, there are several types of hardwood floors, each requiring a different installation system. Most products are unfinished but a few are factory finished.
The most popular product is tongue-in-groove strip flooring. It's a nail down system so you have to have something to nail it on to.
With concrete floors, however, a nailing base will have to be provided for the wood floor. That might require raising the level of the floor as much as an inch-and-one-half to two-and one-quarter-inches.
New hardwood floors can also be placed over existing hardwood floors. But if the old floor is unleveled and noisy and squeaky, then you can bet your new floor is going to have some of those problems.
Flooring maintenance considerations
Once installed, a hardwood floor requires little maintenance. Sweep it or dust mop it or vacuum it when it's dirty. kitchen floors can be damp mopped or wiped with a wet rag. You can occasionally use a mild detergent when mopping a floor.
There are also cleaners specifically made for hardwood floors.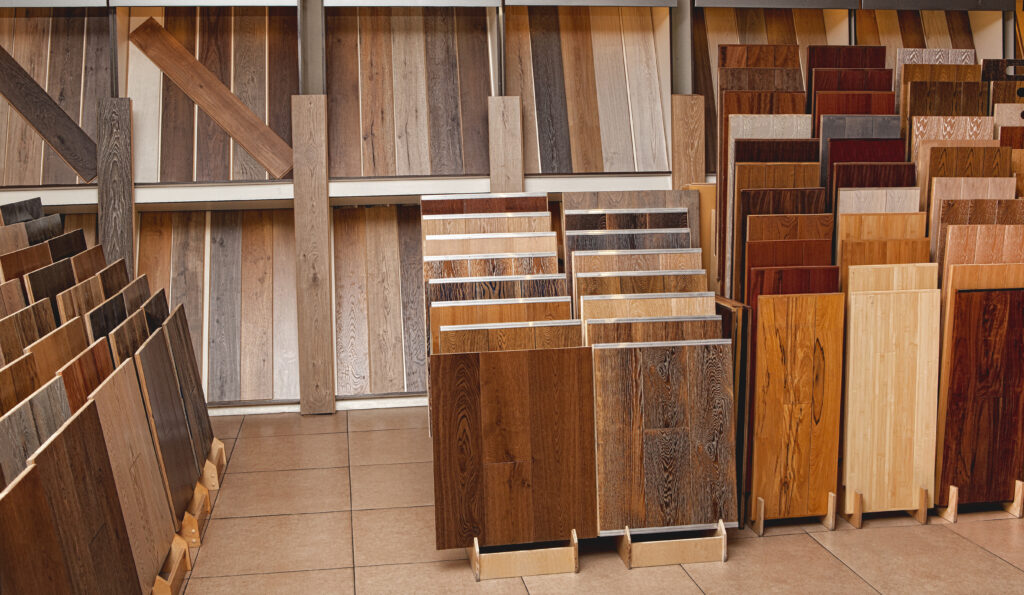 Depending on usage, refinishing is another aspect homeowners will have to address.
When a high traffic area starts to look worn, that's when you need to think about refinishing. Some families may need to recoat once only every 10 to 15 years, while others need to do it every two to four years.
Although only a small section of the floor may look worn, the entire room needs to be refinished, which will require a light sanding of the topcoat and a new coat of finish. You can't just patch because it won't blend well.
It's important to address the refinishing before the topcoat is worn away. Otherwise, the wood will get worn and you'll need to sand away all the finish and sand down all the wood. Then, you'll need to totally restain and refinish.
To deter wear, use area rugs over high traffic areas. That can actually lengthen the life of the finish by years and keep the floor looking magnificent. Keep all of this items in mind and you'll have the ABC's of installing hardwood floors in your home.
© by Jim Sulski.